Basketball Drills and Techniques
Improve your game the correct way
---
Basketball Sub-Site
Basketball Drills and Techniques

---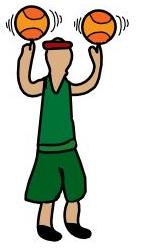 Welcome to the Basketball Drills Section!
This page lists all the techniques and drills that we have written for you to improve your game and rule out bad habits so you can learn to play correctly by learning the basics and develop into a good basketball player.


Ballhandling
---
Basic Dribbling Skills
Learn the Basics of Dribbling and master the correct way without learning any bad habbits.


Cross Over to Evade Defender
Learn how to control the ball in order to avoid the defender from taking possesion.


Between the Legs Dribble
Useful Technique to confuse defenders and allow for the ball to be sheilded between your legs at all times.


Jab Step Fake
Learn to fool your defender with the Jab step Fake to perfection. Making them the ones who fall victim to a "forcing a player in a direction" move.


Shooting
---

Baskball Shooting Technique

Learn the Basic Technique behind shooting along with some drills to perfect your technique and stomp out the bad habits.



Learn to Dunk a Basketball

Learn how to Dunk Properly. I found after a while that all the internet ads showing you how to dunk are a waste of time. Learn the real, honest and original way right here.


---
Know all of your basketball Drills? Why not take them down to your local court where you can practise them with your friends? Click here to find your local court!